Affordable Holiday Home Decor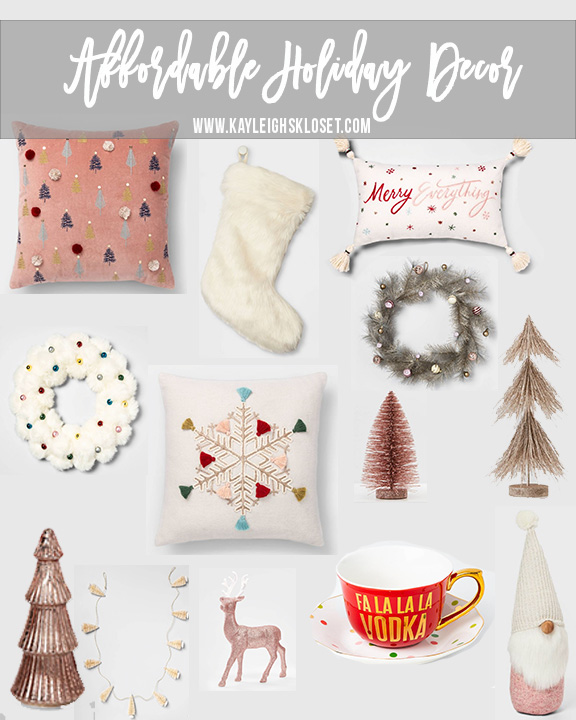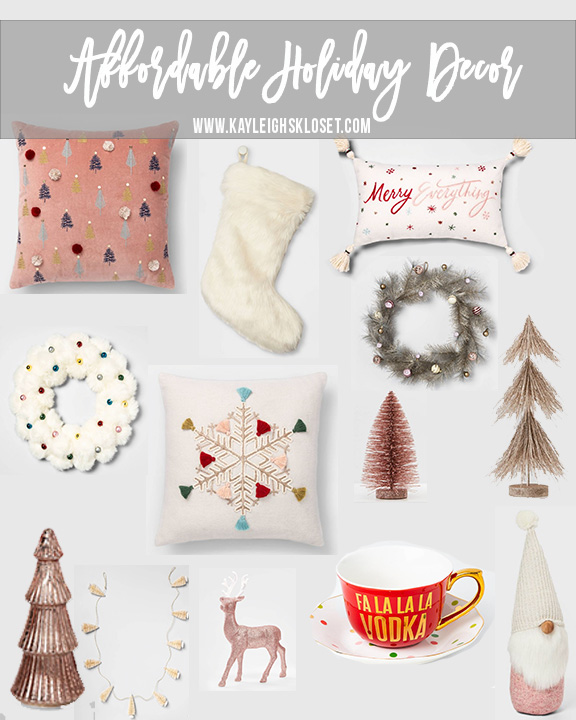 Turn on your
JavaScript to view content
Happy Thursday y'all! After being miserably ill this week,
I've spent much time on my computer looking at holiday decor and
planning ways to get some new things for the upcoming holiday
season. As I mentioned in my fall decor
post, I typically hold back on fall decor and really go all out
for Christmas. I'd be lying if I said my tree wasn't already
up, but in my defense I'm waiting to decorate it until I get back
from my week long work trip next weekend!
Holiday/Christmas season is my absolute favorite time of the
year and honestly the best time to live in New York City. The city
transforms itself into a holiday oasis where every corner or
neighborhood is something different. Decorating my home is always
my favorite thing to do and even my friends enjoy coming over more
often because it's just so cozy! You can see my first NYC
Christmas in my old apartment
HERE and HERE,
and last year's post
HERE. I even shared how I decorated my tree
HERE!
Since I like to deem myself as a 25-year-old-pro when it comes
to decorating for the holidays, I wanted to use today's post to
round up the items I'll be purchasing to re-decorate my place
this year and really make it that girly-glam holiday vibe! So
let's dive in…
Turn on your
JavaScript to view content
1. Gold/Champagne Wreath.
I've always been confused whether or not my building allows
wreaths because I never see them on doors, but then I got to
thinking "why not just put them somewhere else for decor?!"
I'm snagging this wreath to work as the center piece of my
"mantle" aka the area above my AC unit.
2. Bottle brush tree
garland. Possibly the easiest way to get more bang for your
buck here buying a garland as opposed to a few bottle brush trees.
Such a cute addition to have on your mantle, bar cart, etc.
3. Fun, thematic throw pillows that don't SCREAM holiday
season. Now I'm not saying you can incorporate these into your
year-round decor, but this pink
pattern pillow, this Merry
Everything pillow, and this
snowflake pillow seamlessly fit into my decor.
4. Fun bottle brush trees. This pink glittery one and this larger gold one will compliment
the white ones I already have so well! They're also extremely
cheap.
5. Glitter reindeer. You can never go wrong with a few glitter
reindeer as a part of your holiday decor! I have this pink once currently in my
cart.
You can find more affordable holiday decor by clicking through
the widgets above/below. Anything you're currently shopping that
I'm missing? Have a great day and thanks for reading!
Turn on your
JavaScript to view content
The post
Affordable Holiday Home Decor appeared first on Kayleigh's Kloset.
Source: FS – NY Fashion
Affordable Holiday Home Decor